Hello and Welcome to the
Brussels Imagination Club
Web Site!
The Imagination Club is an informal, non-profit and fun group that meets up twice a month in Europe's capital to hold a short (90 minute) experimental workshop on just about anything.
It's a place that allows facilitators and trainers to try out new ideas with a receptive, intelligent and creative audience -- people like you, of course!
It's also a place where you can go to learn something new, be surprised and meet some fantastic people from around the world.
The Imagination Club started in Brussels, Belgium. But there are now clubs in Australia, Sweden and the Netherlands.
The Imagination Club is run by Jeffrey Baumgartner and Andy Whittle.
Interested? Join us!
---
Next workshop: Tapping into the Dark Side of Your Creativity by Jeffrey Baumgartner on 9 September
---
---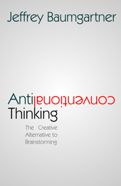 Books
Jeffrey Baumgartner's latest book explains why traditional brainstorming sucks when it comes to being creative; presents his alternative, anticonventional thinking (ACT); and demonstrates why and how ACT works through examples and cartoons.
Click on the cover to learn more, order it on Amazon, ask for it at your favourite bookshop or check out a copy at the next Brussels Imagination Club workshop.